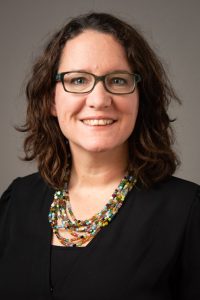 Liza Makowski-Hayes (aka Liza Makowski), Ph.D., Principal Investigator.
Dr. Makowski is a Professor in the Department of Medicine, Division of Hematology-Oncology in the College of Medicine at the Univ of Tennessee Health Science Center in Memphis. She is jointly appointed in the Department of Microbiology, Immunology and Biochemistry in the College of Medicine. She is also jointly appointed in the Department of Pharmaceutical Sciences in the College of Pharmacy. Dr. Makowski is a member of the UTHSC Center for Cancer Research. She serves as associate director for education and development and is faculty advisor for the UTHSC Translational Sciences Shared Resource.
Dr. Makowski earned her Ph.D. in the Department of Nutrition at the Harvard Chan School of Public Health in the Division of Medical Sciences. She also received a Masters in Medicine concurrent with her Ph.D. studies as a Lucille P. Markey Fellow from Harvard Medical School. She completed a 1 year postdoctoral fellowship at Harvard Chan School of Public Health in the Department of Genetics and Complex Diseases where she was awarded an F32 NRSA postdoctoral fellowship. Dr. Makowski continued postdoctoral studies in the Departments of Medicine and Pharmacology & Cancer Biology at the Duke University Medical Center in the Stedman Center for Nutrition and Metabolism with F32 funding. During her postdoc at Duke, she was awarded a K99/R00 Pathway to Independence award to transition from postdoc to faculty. After 8 years as faculty at UNC Chapel Hill in the top ranked Department of Nutrition in the Gillings School of Global Public Health and Lineberger Comprehensive Cancer Center, she moved to Memphis to join the University of TN Health Science Center.
Makowski lab focuses on immunotherapy and immunometabolism for which Dr. Makowski has received a K99/R00, U01, R21, and R01 grants from the NIH and Mary Kay Foundation, American Heart Association, and other funding from foundations. Recent work focuses on reprogramming of the immunosuppressive microenvironment, microbially-derived metabolites, and efficacy of immune checkpoint blockade therapies in obesity-induced breast cancer. She has published in journals such as Journal of Immunology, Molecular Metabolism, Breast Cancer Research Treatment, Frontiers in Oncology, Scientific Reports, Immunological Reviews, JBC, Obesity (cover), and eLife. She has served on planning committees at AACR (obesity and cancer), South East Lipid Research Conference Organizing committee (now the Fredrickson Lipid Research Conference), and The American Society for Biochemistry and Molecular Biology (ASBMB)/EB. With Dr. Brandt Pence, Dr. Makowski recently formed the Metabolism, Immunity, and Inflammation of the Mid-South interest group (MIIMS).Dr. Makowski has served on study sections including NIH Cancer Immunology and Immunotherapy Fellowship Review Panel, NIH Tumor Microenvironment (TME), a special emphasis panel (SEP) for NCI's Provocative Questions (PQ), SEPs for metabolic reprogramming the microenvironment in cancer (OTC-Y and OTC-A), as well other foundations including American Heart Association and The Mary Kay Foundation.
Dr. Makowski take great pride in her trainees! To date, medical students, graduate students, and fellows have received funding from NIH (NIH NRSA F32, NIH Integrative Vascular Biology T32, NIH Medical Student T35), industry/foundation (Komen, The Obesity Society, AACR, Sanofi-Aventis), and/or internal merit-based (UNC Chancellor's Fellowship, Royster Society of Fellows, UT/West Cancer Center). Previous graduate students have gone to current postdoctoral positions at Memorial Sloan Kettering Cancer Center, UCSF-Children's Hospital Oakland Research Institute, University of Pennsylvania, or to pursue an MD. Postdocs have obtained positions as a scientist at USDA or in companies which were their career goals (Metabolon or other venture capital research institutes). Last, undergraduates trained (>15) have gone to Harvard Med, Wash U Med, UNC Med, UNC Dental, UTHSC Med, UTSW Med, and Harvard Chan School of Public Health. Dr. Makowski also serves on several NIH study sections including Tumor Microenvironment (TME), special emphasis panels on immunometabolism in the TME, immunotherapy in cancer for fellowships, and NCI Provocative Questions (PQ), as well other foundations including American Heart Association and The Mary Kay Foundation.
Follow @MakowskiLab on Twitter
ORCID link
Laura Sipe, Ph.D.
Laura Sipe grew up in Maryland and attended St. Mary's College of Maryland. Laura received her Ph.D. in Biology from the University of Virginia where she studied the contribution of the sympathetic nervous system in weight loss. She joined the Makowski lab in 2018 from UVA to study the interplay between adipocytes, macrophages, and tumor cells. In addition to research, Laura pursued teaching and earned the Distinguished Teaching Fellowship and taught her own course in metabolism and weight loss. Dr. Sipe has been awarded several grants and fellowships in Makowski lab including a Komen/The Obesity Society award, A fellowship in the NCI Transdisciplinary Research on Energetics and Cancer (TREC), a fellowship from the AACR – Triple Negative Breast Cancer Foundation Research Fellowship, among other accolades. Dr. Sipe also won best postdoc oral presentation in 2019 at our local postdoctoral fellowship symposium.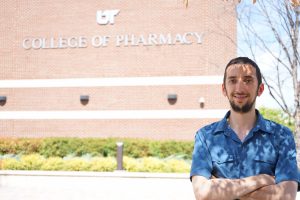 Mehdi Chaib grew up in Algeria and moved to the US to pursue a career in medical research. Mehdi earned his BA in Biochemistry from the University of Mississippi and MS in Biomolecular Science from Lipscomb University in Nashville, TN. He joined the Makowski Lab in 2019 and is currently a Ph.D. Candidate. Mehdi is interested in studying the role of the immune system in promoting cancer growth. He is particularly interested in the discovery of novel targets within myeloid cells to reverse immune suppression and enhance immunotherapy efficacy in solid tumors. Mehdi has won several awards such as the American Association of Indian Scientists in Cancer Research Young Investigator Award in 2019 for his work on macrophage iron metabolism and pancreatic cancer. He also won a Keystone Symposia Presenter Scholarship to present Makowski lab findings at the prestigious Keystone Symposia Myeloid Cells and Innate Immunity in Solid Tumors where he was also invited to give an live presentation (virtually during COVID). Mehdi was also selected to speak at the 2021 AACR conference (virtually). In his free time, Mehdi enjoys hiking, backpacking and spending time with family and friends.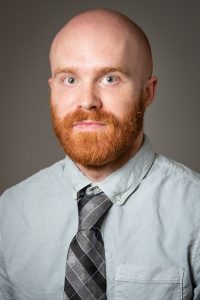 John Yarbro earned his MS in Nutrition Science and graduate certificate in Bioinformatics at the University of Memphis where he studied the role of metabolism in innate immune function in aging. He has published articles in journals such as Experimental Gerontology, Immunity & Ageing, and Mechanisms of Ageing and Development. He joined the Makowski lab in 2020 to assist with an R01-funded project examining the role of the microbiome and immune system in triple negative breast cancer. He plans to attend medical school to pursue a career as a physician scientist.
Medical Students/Fellows
TBD (COVID)
Rhodes Undergraduates
Ubaid Tanveer